Print
Richea pandanifolia after which the club is named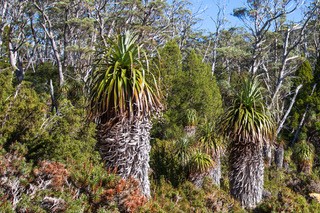 Welcome to the Pandani Bushwalking Club
Join Pandani and enjoy Tasmania's natural wonders
The Pandani Bushwalking Club organises walks and other activities in the southern Tasmania region and further afield on weekends and weekdays all year round.
The emphasis is on bushwalking but there are also kayaking and photographic events held at various times of the year. Many club members are keen bush photographers and an annual photographic competition and exhibition is held each year.
Club History
The Pandani Bushwalking Club was formed at an inaugural meeting in the Battery Point Community Hall on 2 April 1992 and became a fully incorporated body on 19 June 1992. The club originated primarily from people who had been through the Adult Education 'Introduction to Bushwalking' course and who had continued to walk together as friends after completing the course. That course was run by the late Graham Wootton who was a stalwart of the club for many years and is remembered with respect and affection.

The group had first formed in late 1988 and soon adopted the name of the 'Survivors Bushwalking Group'. From an initial collection of about 15 people the group grew rapidly. By 1990 it had produced its first printed program and in that year organised twelve walks including a snow camp on the Tarn Shelf and eight socials. Membership continued to expand to embrace not only adult education participants but also anyone who wanted to join a small informal bushwalking group. In 1992 the need for a shorter, more appropriate name and liability considerations prompted the formation of the Pandani Bushwalking Club Inc.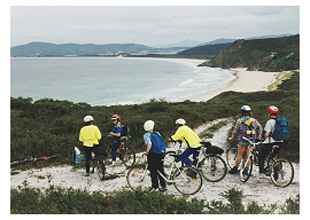 Throughout the nineties Pandani continued to grow in both membership and in the range and number of activities. Rosemary Bruce, who also led Adult Education Classes in bushwalking, joined the club and created another stream of members for Pandani. Activities expanded to include cross-country skiing, mountain bike riding, dog walks, and abseiling. An annual Pandani Photographic Competition was introduced in 1999 and still continues.
The late 1990's also saw the beginning of extended summer trips to some of Tasmania's more remote and challenging mountain areas including Precipitous Bluff and the Frankland, King William, and Western Arthur Ranges. By 2000, club membership had grown to approximately 250 and there were around 100 w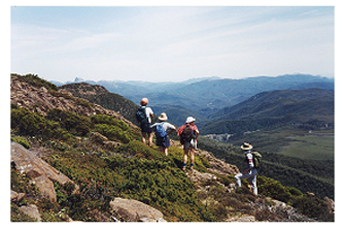 alks or associated activities on the program.
The first decades of the 21st century have been a period of both growth and consolidation. Keith Hewlett introduced the concept of mid-week walks to Pandani in 2001 and these have grown to be immensely popular. The club became involved in the wider bushwalking world and appointed representatives to the Tasmanian Federation of Bushwalking Clubs (now Bushwalking Tasmania). We have also participated in Search and Rescue activities, both in the training area and in Police searches for missing bushwalkers.
In 2007 Pandani embraced modern electronic communication and offered members the choice of receiving the club program and newsletter by email at a reduced rate and in 2020 went fully online with a sophisticated new website and online trip booking system.
Long serving members who have made outstanding contributions and been awarded Life Membership are Graham Wootton (dec), Rosemary Bruce, Keith Hewlett (dec) and Christine Wilson.
'Twenty Years Down The Track'
| | |
| --- | --- |
| At the club's 20th anniversary a book with the above title was published documenting the origins and history of the Club and featuring descriptions of many of the noteworthy walks and events during the years. Many spectacular photographs are also included. The book is available from the Club for members - to purchase a copy contact a committee member. | |
Notices
Notices
Pandani Website Update
All current Pandani Members now have a profile on our new website. Those that didn't create their own profile have now been put into the website and you will now need to logon to the website and add to and/or amend your personal details. You have all been given a password and you will need to change this ASAP. You have been sent your temporary password by email or text. If you don't understand what to do to change your password or amend your profile details or need some other assistance please ring Frank van Ravels on 0419 000 727.
Staying COVID Safe when Participating in Club Activities
The Pandani Committee encourages members to manage the ongoing risk of COVID when participating in club activities by key behaviors. The behaviours are a recommendation of the Tasmanian Government to assist in the protection of all Tasmanians. More information is provided in the member area.
For up-to-date information and advice on coronavirus visit https://www.coronavirus.tas.gov.au
National parks and reserves are mostly open to the public, this includes campgrounds and visitor centres. Visit https://www.parks.tas.gov.au for details.
• • • Flash walks - Continue to be advertised on the Facebook page.

Pandani Bushwalking Club Committee